Surveillance and Security
The Intelligent Outdoor Video System solves the toughest outdoor security problems. Intelligent Surveillance systems include video analytic SightSensor cameras and Clear24 thermal cameras, deployed around the world to protect critical assets in the desert heat to the frozen arctic.
Video Analytic Systems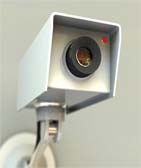 The Automated Outdoor Video System accurately detects, assesses and locates intrusions over outdoor areas and perimeters. By integrating many times the typical processing power at the "network edge" This solutions eliminate the effects from wind, lighting, precipitation, moving clouds, shadows and vibrations. This ensures increased coverage area with a high probability of target detection and low nuisance alarms in all weather and geographies. Increased coverage also means fewer cameras and less infrastructure, making this solution the most cost-effective solution for automated outdoor security.

This best in class automated systems also provide the "what" and "where" of security breaches over large areas, while enabling greater intruder detection accuracy, increased image detail, and target size, speed and location. Upon detection, PTZ cameras are automatically zoomed and steered to follow intruders for more detail.